Restaurant Franchise Advertising & Website Design
Moxies is a restaurant franchise with over 66 locations in Canada and the United States. We assist their Calgary based headquarters with all aspects of marketing and restaurant advertising.
In particular, we assist Moxie's with:
Brand strategy
Online ad buys
Responsive website design & maintenance
Social media strategy & management
Analytics & social reporting
Campaign direction and execution
Custom application development
We've worked with Moxie's marketing and executive leadership teams for over eight years. We have daily Slack, phone and video chats with their team as we produce advertising and marketing solutions for national and local stores.
RESPONSIVE WEBSITE DESIGN
We designed and developed a responsive website that provides a seamless experience from desktop to mobile in three different languages. The website design includes custom photography, videos, and animated graphics that emphasizes low page load time and best in class search engine optimization.
Daily, the online presence reaches over 8000 users a through the website; 300,000 people through social networks and another quarter million through display and search advertising. Custom campaign pages for local stores are a key focus in order to extend Moxies dominant SEO presence.
The Moxies website is designed to maximize flexibility of use with online advertising and social network marketing. It is the primary marketing vehicle for Moxies and the best destination to purchase online gift certificates.
We provide photography and video production services for Moxies web properties, broadcast pieces, and social media content. We film on site and in studio, including both product and lifestyle campaigns.
Our video services allow Moxies to create high quality streaming and advertising pieces that impact all facets of their marketing programs. The visual work is used in all aspects of Moxies marketing and advertising as well as on all their social media platforms.
Custom made visual pieces are created for use by local stores. These photos and videos are shared through an online library that all locations have access to.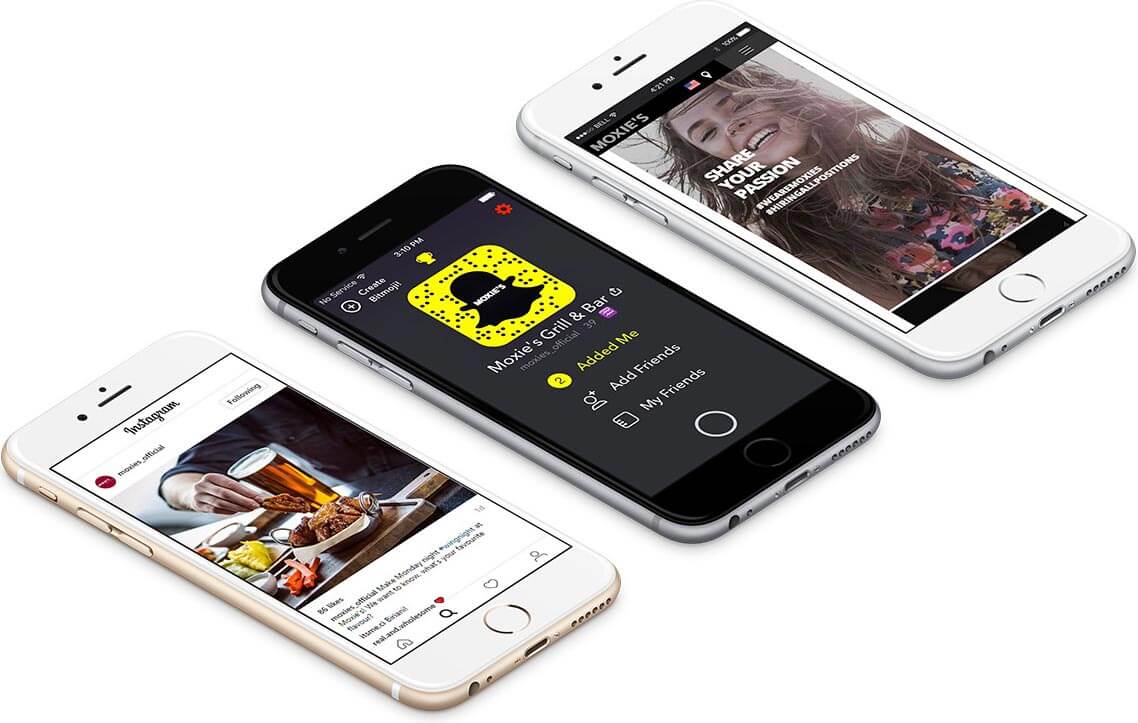 SOCIAL MEDIA CONTENT CREATION & MANAGEMENT
The happy hour customer should promote your restaurant organically!
Our data and strategy have been central in doubling Moxies follower in the last year and tripling their engagement and reach.
Moxies has a very large footprint in the social media marketing stratosphere.
With Facebook, Twitter, Instagram, Google+ for all locations, and national accounts for both Canada and the United States that layer in Youtube and Snapchat. And then you layer on review sites like OpenTable, TripAdvisor, Yelp, etc. It's a lot of different social properties that require content and direction. We assist with strategy, campaign development, and all aspects of social channel administration.
We've created custom social media applications and mobile dashboards used at all levels of operations. These programs assist restaurant owners and managers with local marketing initiatives, manage social content, analytics reporting, and client feedback portals.
Ads need to reach people and feel like a natural part of their life. Moxies positions their advertising fund to best fit organically into a user's life.
We buy ads for Moxies on Google Ads (search, map, display, retargeting, YouTube), Facebook, Instagram, Twitter, Snapchat, Yahoo, Bing, and other third party platforms. The ads are hyper-targeted for geolocation, interests and demographics. This creates a very intimate audience experience. These tiny groups are then retargeted for further top-of-mind awareness.
We've also purchased ads on Spotify, the Weather Network, and third party services for beacon awareness ad buys.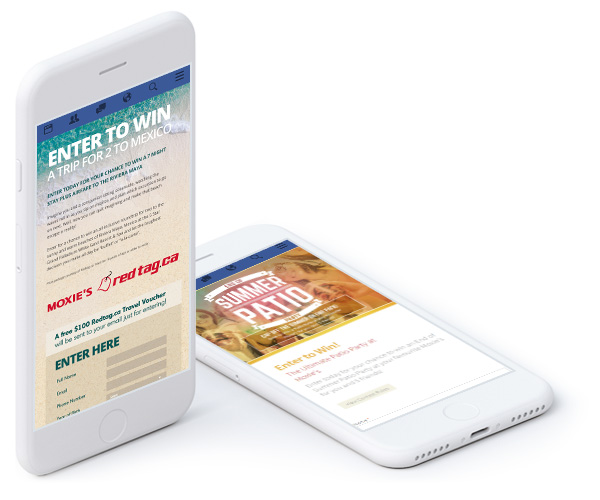 Moxie's has the most consistent user growth in their vertical as well as one of the strongest newsletter programs, and most of this is attributable to contests that resonate with their target market. Goal-oriented marketing is the most effective way of increasing reach, engaging interested social users, creating word of mouth, and growing focused advertising lists.
We use contests with Moxie's to increase their Instagram and Facebook followers, add to their national & local newsletters, and to drive local store interest across Canada and the USA. Small and large contests are featured in-store, in traditional local advertising, as well as hosted online for users to enter on desktop or with their mobile devices. Facebook, Instagram and website hosted contests will drive a companies capture rate and is one of the best restaurant marketing tips for increasing your future organic reach.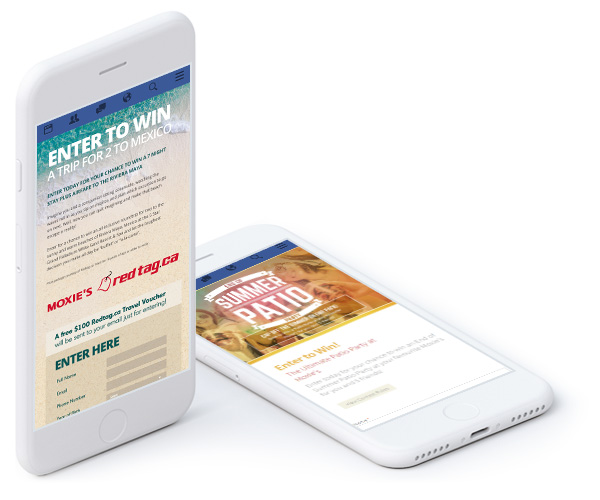 How do people find out about your brand online? How do potential customers really find you?
That's the question everyone wants answered and beyond advertising, search engine optimization (SEO) is the largest contributor to online brand awareness. We've designed a framework for Moxies that has placed them first-in-class when measured against their key competitors. Their website has an estimated yearly value of over 2 million dollars.
As SEO specialists we provide Moxies with regular SEO audits coupled with market research for local, category, branded and non-branded keywords. A long-tail keyword strategy has set the brand up to excel with the emerging trend (and future reliance) of voice search.
Custom "living analytics dashboards" provide daily reporting assisting with insights to constantly update and improve their rankings in search.